Winter camping is different from camping in other seasons. If you don't follow the rules, boundless snow, blowing wind and merciless storms can cause missing and even death: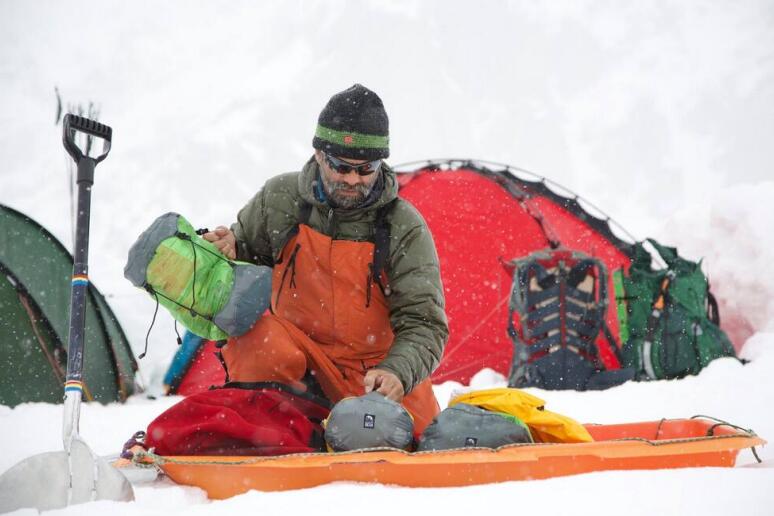 photo: Granite Gear
If you are camping in winter, it's unwise to go alone. Go with at least 1 or 2 of your friends or family members. If you are camping with others, things are way easier and a lot more fun when you do them with someone else. Most importantly, there will always be someone around who is more than willing to come to your aid.
Let Others Know Your Trip
You must let others who aren't going know where you will be and when you will be back. And also let them know whom you are going with(also the contact information of fellow campers), the vehicle information, etc.
Before you go, do study the maps to know the lay of the land better. If you read physical maps carefully, you will see the rivers, lakes, mountains and their elevations. You can also see the roads and the scale so that you can figure out how long it will take to get to your destination.
This is extremely important because winter storms are merciless and they can appear suddenly. Do check the weather with the National Weather Service to see what's being forecast for the areas you will be in.
Having the necessary supplies is essential for any outdoor activities, especially when you are camping in winter. If you make a checklist and prepare your package according to it, nothing will be left behind.
If you are not sure what you should take or afraid of missing anything, you can take these 2 checklists for reference and as a starting point:
(1) Camping Checklist: What Do You Need to Take
What's one of the basic rules of winter tent camping? To stay warm and dry, of course! It's wise to wear layers that are insulating, moisture-wicking, fast drying, waterproof and breathable. You can adjust the layers according to the weather and temperature, which is very convenient and flexible.
Feel free to let us know if you have any suggestions, tips and tricks!